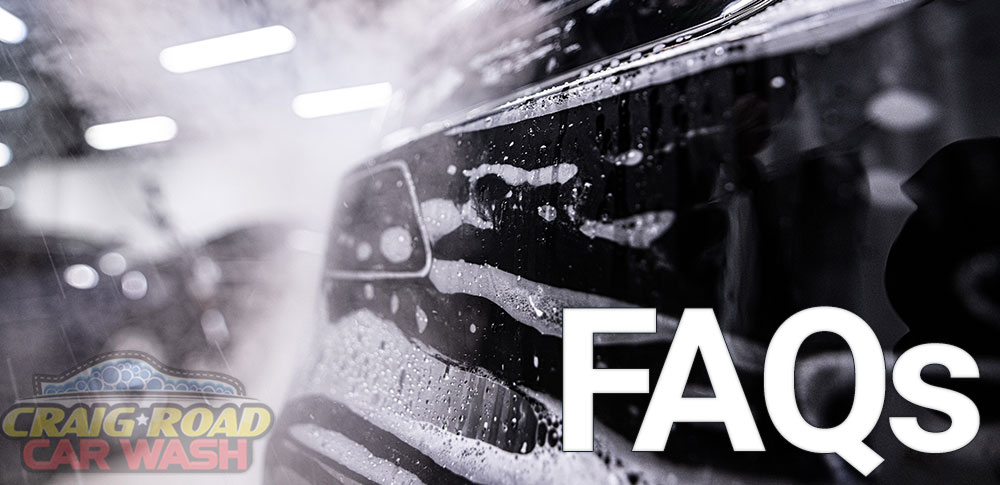 Car Wash - Frequently Asked Questions
Should I have my rock chip repaired?
In almost all cases you should have it repaired NOW. The National Glass Association says repairs performed soon after the damage occurs, almost always look better than ones done long after the chip damage.
What is windshield repair?
It is a process that utilizes injecting a specially formulated resin into the damaged area. It saves money by preventing the need for a new windshield. It does not affect the integrity of the original factory seal since the glass is never removed.
What about my insurance?
Most insurance companies consider windshield repair a no-fault claim and hence would not affect your insurance rates. All major insurance companies encourage and have recognized the benefits of windshield repair, to them, to you, and to our environment. Most insurance companies will waive the deductible requirement if a windshield is repaired rather than replaced, reducing your cost to zero! Craig Road Car Wash can get this approved right here right now within minutes while your car is being washed.
Q-4. Should I contact my agent or insurance company?
We're experts at verifying coverage, filing a claim and handling all the paperwork. We work closely with Safelite Solutions and Lynx to handle the claim on your behalf….HASSLE FREE! or if you prefer you can pay us directly and file the claim yourself. We normally charge $50 for the first chip and $10 each additional.
Q-5. This sounds too good to be true, Is it?
In some areas of the country, chip repair at car care facilities is almost a given, in others it is not as wide spread. 'If a chip is repairable, it's a win-win situation,' according to one major carrier, agreeing about it being a convenience for the customer, and one that might prevent further damage. 'It costs less to fix the repair at no cost to the insurance client than to pay to replace the entire windshield.
Q-6. Is windshield repair new?
No, since 1972 windshield repair has saved companies and consumers billions of dollars versus replacement. The federal Highway Safety Act of 1968 required all vehicles sold in the U.S. be equipped with shatter resistant or laminated safety glass windshields. Researchers immediately recognized the economic and environmental benefits of creating a method to repair shatter resistant windshields. Repair would give consumers a cost saving alternative to windshield replacement while contributing to the nation's environmental priority of reducing the burden on America's overflowing landfills. The research of the early 1970s led to the birth of the US windshield repair industry. For nearly 40 years, that industry has provided consumers with an economical, effective and safe alternative to windshield replacement. Today, over 4 million damaged windshields are repaired annually. Private and public fleets along with most automotive casualty insurance companies were among the earliest advocates of windshield repair and they remain loyal customers today.
Q-7.Who should I contact if I have any questions or concerns?
You may ask to speak to our Operations Manager, or any one of our professional windshield repair staff. We also have a comment form on our website (www.craigroadcarwash.com) and a comment box in the waiting area. We would greatly enjoy you, being a part of our HIGH RETURN customer base.
Q-8.Will the crack or chip disappear?
It is a mechanical fix and not a cosmetic one. It will look less noticeable, but will not disappear. The resin injected into the windshield will prevent it from further damaging your windshield.
Q-9. Useful links…..here is what they have to say: